Covid
15/7/21
Following on from the Governments announcement on Monday regarding the lifting of Covid-19 restrictions in England from July 19, The Beauty Room will continue to put the safety of our valued customers and our Team at the heart of everything we do.
In light of the current surge in positive cases, we will be maintaining the strict cleaning regimes around the Salon that we have had in place and all of the team will continue to wear masks during the course of their work.
We will also continue to ask customers to respect our safety procedures by arriving for your appointment no more than five minutes early; waiting at the entrance until you are buzzed in; wearing a mask within the salon and completing a temperature check at reception, but even more importantly, not attending the Salon if you are displaying Covid-19 symptoms or have been in contact with someone who has tested positive within 72 hours of your appointment.
We would liked to have eased our own procedures, but we will maintain them for the foreseeable future for everyone's safety.
25/3/21
Important notice for Customers booking LVL Lash Lift Treatment, Eyelash and Eyebrow tint and HD Brows
As we look forward to welcoming you back to the Salon, we have received updated advice on patch test requirements prior to undertaking one of the above treatments.
If you have tested positive for COVID-19 you will need to have a new patch test completed, no less than 24 hours before your appointment time, as this is a change to your medical history that could affect how you react to your treatment.
With the latest lockdown reaching almost 4 months, some of you will also have not been able to book treatments in the 6 months prior to your next appointment. This also means you will have to arrange for a patch test to be completed before you can receive one of the listed treatments in order for your test history to be up to date.
In either case, if you have had or are due to have you CODID-19 vaccination, you must wait 2 weeks from the date of your vaccination before having a patch test. This is to ensure that any reaction to the test is not unduly affected by changes caused by your vaccination.
As always, your health and wellbeing are our priority and we thank you in advance for your understanding of the new guidance.
To book a patch test prior to your treatment, or for further details, please call the Salon on 01530411301 and we will be happy to assist.
14/8/20
**Great news!!** The return of facial treatments has been confirmed from Saturday 15 August.
If you haven't made your appointment yet, book online now.
31/8/20
*****Urgent Information*****
The Prime Minister has just announced that lockdown easing measures that were due to come into force tomorrow, including facial treatments at beauty salons, have been postponed until August 15th at the earliest.
The team will be making contact with everyone that has an appointment for a facial treatment to confirm the cancellation of your appointment at this time.
I can only apologise for the short notice but the news was only announced in the last hour.
The announcement also said that the postponement could last longer than August 15, further details will be posted on this page as we hear them.
All treatments that we have been conducting since we reopened will continue.
Jane
26/7/20
*****Important Notice*****
As we will be able to offer facial treatments from 1 August, due to the length of time we were required to be closed, the following treatments will require a new patch test a minimum of 48 hours prior to the treatment taking place:
Eyelash & Eyebrow Tinting
High Definition Brows
LVL Treatment
St. Tropez Tanning
Please ring to arrange your patch test prior to booking.
Unfortunately, we will not be able to proceed with your treatment until an up to date patch test has been completed.
Thank you for your understanding.
Jane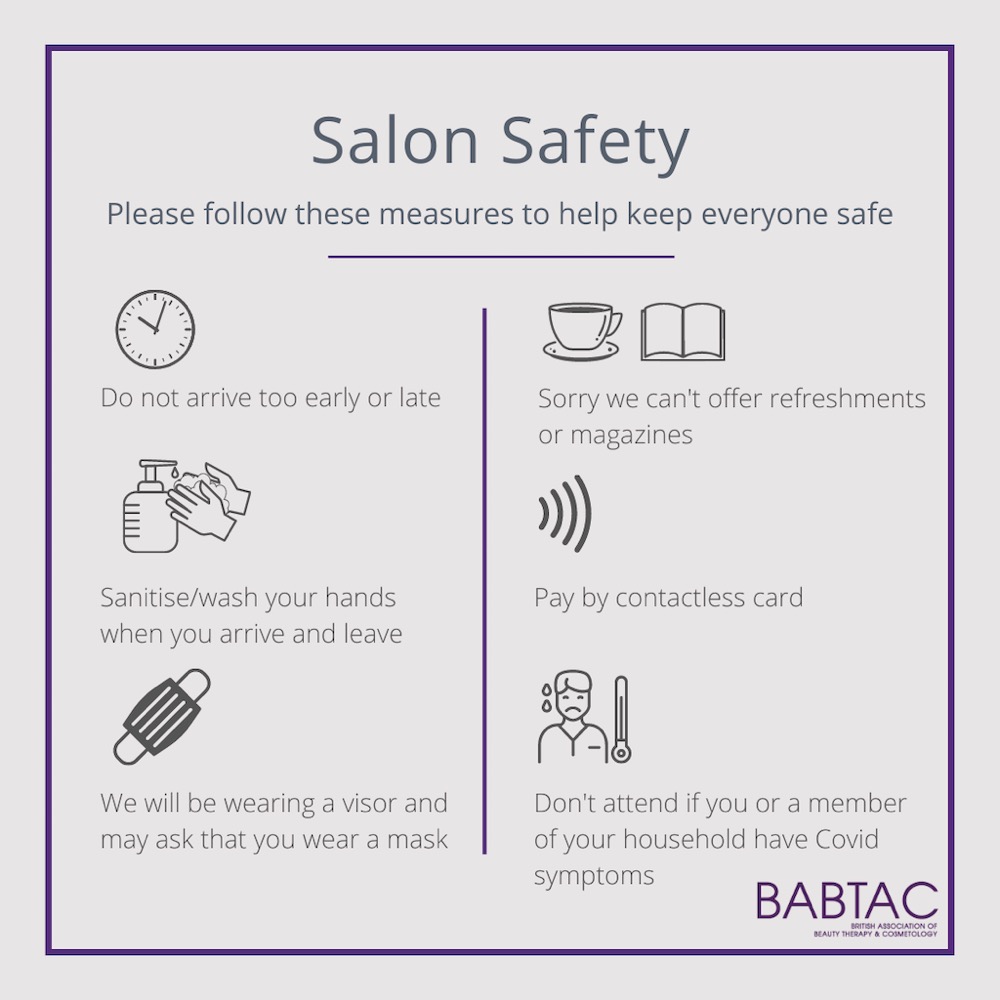 26/7/20
Thank you to everyone who has visited us since we re-opened on 15 July and for adapting to the new "normal" that we are working in.
The changes that we have made are necessary in light of the guidance and guidelines we receive in respect of Covid-19 and are there for the safety of you and the Beauty Room Team.
As we work in the changed environment, we are assessing every day if there are alterations we can make to improve your experience without compromising safety, please be aware that how we work on one of your appointments may not be the same the next time you visit us. The Team will help and guide you through any changes when you visit.
In the meantime, please follow the guidance in the attached photograph, in particular, we ask that you wear a face covering when you come to the Salon and that you arrive at the time of your appointment, not early as you may have done in the past.
From 1 August, we will be offering facial treatments once more and our online booking system is the most convenient way to book your favourite treatment.
Follow the link below or copy into your browser to book:
https://thebeautyroomashby.com/booking.php
As always, we are here to welcome you and offer you amazing experiences, we appreciate your flexibility in these unprecedented times, as we have had to adapt in order for the Salon to re-open.
Jane and The Beauty Room Team
17/7/20
The news we have all been waiting for has been announced by the Government and from August 1st all beauty treatments will be permitted, SUBJECT TO NEW GUIDELINES BEING MET.
As with the previous announcement, the devil will be in the detail which is not expected until next week.
We are all keen to get back to as close to normal as possible, but we ask for your patience once more for the guidelines to be circulated and we have had time to assess how these will impact your treatments and the business as a whole.
Until the guidelines have been received, we will not be taking bookings for treatments on the face, but will start to allow them as soon as possible once we understand the implications.
Please keep checking this page for updates.
https://www.babtac.com/news/2020/07/242-beauty-to-return-in-full
Thank you once more for your patience.
Jane and the Beauty Room Team.
10/7/20
It's been a busy day and thank you for your patience and your continued support.
I am pleased to announce that The Beauty Room will re-open for treatments on Wednesday 15 July.
As you will be aware, the current guidelines state that beauty salons can not perform any treatments on or around the face. Whilst this is as disappointing to us as I'm sure it is for you, we will be abiding by those guidelines to ensure your safety and that of The Beauty Room Team. As the guidance changes, we will act accordingly.
When you come to the Salon you will notice a number of changes:
* Please wear a face covering at all times within the Salon.
* Abide by the one way systems and adhere to social distancing.
* Only the person who is booked in for treatment will be permitted entry.
* Entry will be for appointment holders only and will be controlled from reception and walk-in's will not be permitted. When arriving at the main entrance, please knock and wait to be buzzed in. Please be patient if our reception staff are talking to a customer or on the phone.
* If you are showing any symptoms of Covid-19 please DO NOT come to the salon, please phone to cancel your appointment.
BOOKINGS CAN NOW BE MADE ONLINE THROUGH OUR WEBSITE https://thebeautyroomashby.com/booking.php
The entire team can't wait to welcome you back and although it will seem different, we will continue to provide you with the high quality treatments you are all accustomed too.
Jane